34 Ways to Make Extra Money in 2022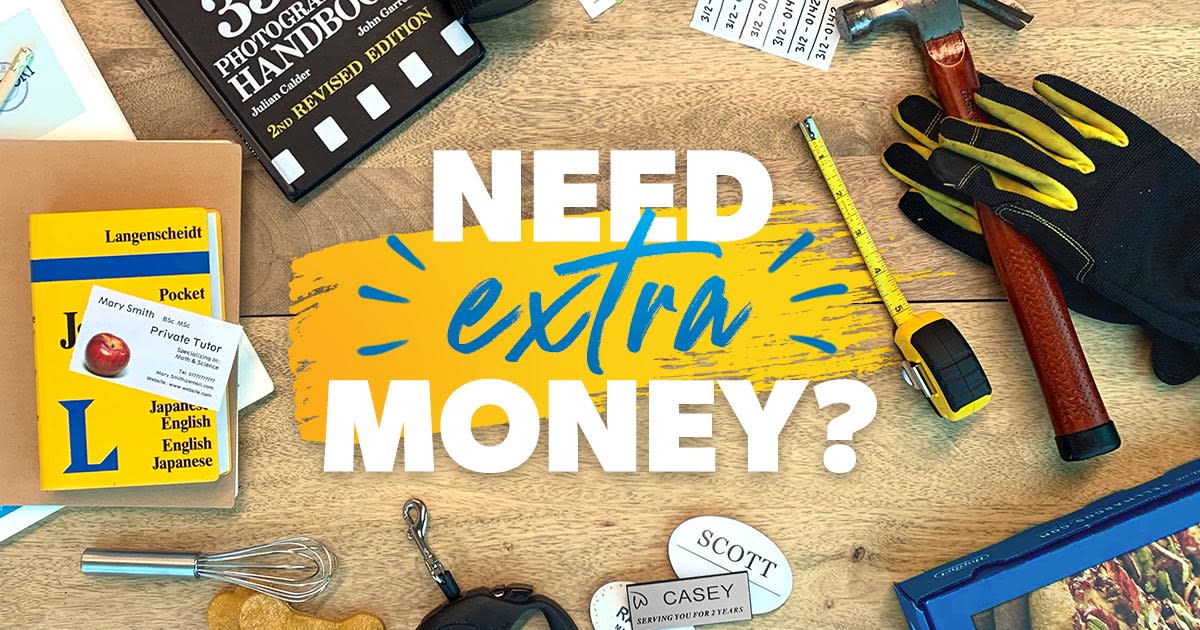 Knowing you need some extra cash in your pocket is pretty easy. All you have to do is look in your wallet. The not-so-easy part? Figuring out how to make extra money.
These days it seems like everyone is working some kind of side gig, renting things out, or selling unwanted stuff to make extra cash—which is awesome. But how did they find out all those ways to make money? Well, they probably stumbled across this list of 34 ways you can make extra money. Or you know, another list somewhere—that's totally possible too.
Either way, it's time to put your money goals into action and earn some extra cash at home, online or on the side. Oh, and let's be clear, these are all legit ways to make money—nothing shady here.
Now let's get to work!
How to Make Extra Money Online or From Home
1. Tutor online.
If you think being a tutor means you made straight A's through high school and college, think again. It's all about what you know and how well you know it. Online tutoring companies like Tutor.com, TutorMe and Studypool hire tutors to share their knowledge with students on a wide group of topics.Dave's easiest money-saving tip: See if you're over paying for car insurance.
Just make sure you're careful when figuring out which tutoring gig to take. Some of the users on these on-demand tutoring sites are really just looking for someone to write their essay or do their homework for them. Be smart when sifting through the postings.
2. Become a user experience tester.
Every business hopes their website gives great information, hits their goals, and—oh yeah—makes money. But if something isn't working, the business needs to know why, and a lot of them call on user experience testers to give feedback.
Are you good at knowing if a website is user-friendly just by spending a few minutes scanning the webpage? Companies like UserTesting or TryMyUI will pay you for your feedback. Most of them boast that you'll get $10 for each 20-minute test you complete!1
3. Take surveys.
Look into survey sites like MyPoints or Survey Junkie where you'll get paid just for taking surveys and giving your opinion. Sounds like a pretty sweet deal, right? Just remember, these sites are looking for really specific things when they pick people. So you might not qualify for every survey you come across.
Plus, you'll have to finish a certain number of surveys before you can cash out your points. It's not a get-rich-quick plan by any means, but that extra cash can still add up over time. If you're the patient and persistent type, give it a shot!
4. Get cash back from apps.
There are plenty of mobile apps out there that can show you how to make extra money just by doing simple things. We're talking really, really easy here—like grabbing-your-phone-and-scanning-your-receipt easy. Check out mobile apps like Ibotta, Rakuten, Shopkick, Receipt Hog and Dosh to score some extra cash without too much work on your part.
5. Teach English.
It's kind of like going the tutoring route, except you're teaching English with a company like VIPKid (a big favorite of fans in our Ramsey Baby Steps Community on Facebook). Now, if the word teach makes you a little nervous, don't worry. They'll handle all the lesson plans and grading for you. But you do need to have a desire to help others learn and be willing to guide a class online. Getting paid while helping others? This one's a win-win!
6. Get paid for your creative skills.
You've got the creative skills but just haven't connected with someone who needs your awesome work. Why not freelance in your spare time with Fiverr? The site connects freelancers specializing in writing, editing, graphic design and voice-over work to clients needing those creative minds in their corner.
You'll create a profile (almost like a resumé) that potential employers can scan to check out your experience, rates and specialties. Get ready to let your creativity flow!
7. Offer your services as a virtual assistant.
If you're organized, love a good challenge, and want to work from home, this may be the perfect opportunity for you! Plus, who doesn't love a little variety in their workday? Chances are, most business owners could use your help as they try to find a better balance between their work and home lives these days. Check out sites like Upwork and Zirtual to find opportunities to start lending a hand.
8. Become an influencer.
Get paid to post on social media! Yup—it turns out, social media can actually come in handy. If you have a large following on social media platforms like Facebook and Instagram, or even your blog, you might consider becoming an influencer.
Whether it's fashion, cookware or home décor, you can become a go-to resource for businesses to get even more exposure on the internet. Just reach out to brands you love and let them know you'd like to work together! And if you're open to affiliate marketing and sponsored content, check out ShareASale and Amazon Associates too.
9. Become a social media manager.
Most companies have a social media presence. Not only is it free marketing, but it's also a way to stay connected to their customers (or future customers) and build a following. But it can be a huge task for smaller companies who don't have many team members. That's where you come in. If you have a knack for creativity, connecting with others and a knowledge of different social media channels—this might be right up your alley!
Ways to Make Money on the Side
10. Get paid for your photos.
Are you a shutterbug? Do you have photos of gorgeous sunsets and perfectly staged lattes cluttering up your camera roll? You can make extra money for your photos without having to be a professional photographer. Foap pays up to $10 for a photo (some can fetch more for special "missions") but they'll take 50% of your sale too.2
Keep in mind, there's no guarantee that people will buy your photos. But even if you only sell a few, that's some easy money for something you've already done.
11. Drive for Uber or Lyft.
If you're strapped for cash but want to work on your own schedule, you might want to think about becoming a driver for Uber or Lyft. You can drive as much (or as little) as you want and set your own schedule. Plus, you get the added bonus of having interesting conversations along the way (or, at the very least, some fun stories to tell of your travels with strangers).
Of course, the amount of money you make depends on your location and how often you cart people around. So if you have a free Saturday every now and then, you might want to spend it as a glorified taxi driver exploring your city and getting paid for it.
12. Become a food delivery driver.
Since the ol' pandemic of 2020, a lot of restaurants have kept their dining rooms closed or stuck with limited seating. So what's that mean? More takeout! Become a hero by delivering food to front porches in your city. Driving for Uber Eats, Grubhub or Postmates is a great way to make extra money in your free time just by delivering food to hungry clients. Bonus points: Your car is going to smell amazing. We're kind of jealous.
13. Join a focus group.
If you like sharing your opinion, why not get paid for it? Check to see if there's a local focus group in your area or online. You could earn cash just for doing taste tests or trying out different products. Just make sure you fit the type of things they're looking for before applying.
14. Deliver groceries.
If you love the thrill of shopping but don't want to spend your own money, this might interest you. With Shipt, you get paid to shop and deliver groceries to clients through an on-demand service. According to the company, their shoppers make up to $22 an hour!3 Getting paid for shopping? Sign us up!
15. Take up babysitting.
Teenagers usually have the corner on the babysitting market. But there's no reason you can't get in on it too. And truth be told, it might be easier than you think to land a gig. Most parents will jump at the chance to have a date night. But sometimes, finding a sitter they trust can be tricky.
Let people in your friend group, church and workplace know you'd be happy to watch their kiddos in your spare time (they need to pay you, of course). And if it's a little awkward for you to spread the news by word of mouth, you can always sign up for a service like Sittercity or Care.com to help you land some babysitting jobs.
16. Start pet sitting.
Are you an animal lover at heart? How about making some extra money just by taking a dog for a walk or boarding a cat for the weekend? You can advertise your own pet-sitting business on social media, put up signs throughout your neighborhood, or use a website like Rover. They let you set your schedule and set up your own fees for services. If you do use Rover, keep in mind that they take a cut of what you make.4
17. Advertise on your car.
File this one under both super weird and the ultimate definition of the phrase passive income. The app Wrapify will pay you to drive with a business advertisement wrapped around your car. Once the car is wrapped, you really don't have to do anything except drive around town like you normally do.
It sounds strange, but it's actually pretty rewarding: The more you drive, the more you'll earn. Wrapify says the average person who does a full wrap on their car makes about $264–452 a month.5 If you're still paying off your car loan, that's a car payment right there!
18. Do tasks for people.
If you're just trying to figure out how to make money on the side with quick fix-it jobs or running errands, TaskRabbit might be your best bet. You can do all kinds of things from yardwork to putting together furniture. This is the perfect way to make extra money if you like to tinker with things—look at you go, MacGyver.
19. Deliver for Amazon.
You know who didn't slow down during the pandemic? Amazon drivers. There's nothing like getting a package delivered to your front door, especially when it comes from Amazon. Everyone loves getting packages, so why not spend a few nights a week driving around town bringing people joy? Sign up to deliver packages with Amazon Flex and set your schedule for as much or as little as you want to work.
20. Turn your commute into cash.
Between commuting to work and driving the kids to soccer practice, most of us spend plenty of time in our cars. It's time to make extra money while you're riding around! With Roadie, you can get paid just for driving a package (or even a pet!) from point A to point B along your route.
And check your area for apps that reward you for carpooling around town. Here in Nashville, we have Hytch, which partners with some companies to reward you for carpooling with one or more people. You're already driving to work each day, so why not get paid for it too?
21. Become a photographer.
If you have a nice camera and a good eye, snapping a few photos might be just the thing you need to figure out how to make extra money. You can go as all in with this as you want. Maybe you only shoot family sessions and birthday cake smashes on the weekends. Or maybe you decide to start a business as a wedding photographer! The choice really is up to you.
Check the going rates for sessions in your area and think about setting your prices a little lower to stick it to your competition. Let's say you make $75–100 a session. That can add up pretty fast!
22. Take up car washing/detailing.
If you're a major car fanatic, this might be a natural fit for you! And you probably already have the tools you need. It's amazing how many people will pay someone else to do something they don't want to do. You can even take the business on the road and meet your customers wherever they are!
23. Become a financial coach.
Are you passionate about helping people take control of their money? Cool cool. Us too. You can make some extra cash through financial coaching in your spare time—no special skills required. Our Financial Coach Master Training will walk you through all the tools you need to help bring people hope as they figure out this whole money thing.
24. Start a blog.
If you've got something to say, chances are people might read it! The great thing about a blog is you can focus on pretty much any topic you want to. If you're a great cook, do a food blog. Or maybe fashion is your true love. If you're passionate about fitness and nutrition, start a health blog.
Just be prepared for the slow game with this one. You can definitely make good money with a blog . . . but you can also end up making next to nothing. Okay, maybe that's extreme. But you get the idea. Using things like Google AdSense or affiliate marketing (where you get a cut when someone buys a product you promote) and even connecting with the right people can really impact your readership and the cash you make.
25. Start your own (online) business.
If you're just looking for a quick way to make cash on nights or weekends for a short stretch of time, then maybe this one isn't for you. But if you're ready to turn your dream of starting your own business into a reality, there's never been a better time to do it! Online platforms like Etsy, Amazon FBA and Big Cartel have made it easier than ever.
How to Make Extra Money by Selling or Renting
26. Rent your home.
If you have a spare bedroom or can stay with your in-laws or friends on short notice, you might want to consider renting out your home on Airbnb. Let's say you decide to rent out your upstairs guest room and bathroom to two guests. Here in the Nashville area, you'd have a monthly earning potential of about $1,551.6 Not too shabby at all!
But what about the risks of opening up your home to strangers? Airbnb offers accidental damage coverage on your home—up to a million dollars of coverage, to be exact. They also offer host protection insurance just in case a guest gets hurt while staying on your property. So kick that worry to the curb!
Even though Airbnb doesn't screen each individual guest, they do let hosts and guests rate each other. That way you can feel more at ease about who you're letting into your house.
27. Rent out your car.
If you have a vehicle that just sits in your garage for long stretches of time, you might find a car rental service like Turo is one of the easiest ways to make some extra money. On average, you could make a jaw-dropping $10,516 a year—just by renting out your ride!7
And don't worry: The company covers your vehicle with $750,000 of liability insurance as well as offering theft and damage coverage.8 So let your renter hit the open road while you sit back and count that extra cash.
28. Sell old phones and electronics.
It seems like new electronic gadgets come out every day. And when you're ready to upgrade, what do you do with the old stuff you don't use anymore? Well, you could just shove it in that random junk corner (where everything goes) or you can sell it! Sites like Swappa and Gazelle (no relation to our gazelle intensity) will take those old phones, gaming systems and laptops off your hands.
29. Get rid of old movies and music.
Channel your inner minimalist and get rid of all those dusty DVDs or CDs on your entertainment stand or in boxes under your bed. And make the whole process easier with Decluttr. You can scan the bar codes of items you don't want anymore and see how much money the company will give you. Instead of waiting around for a buyer to maybe purchase your item, the company itself will buy your stuff outright. See ya later, Godzilla DVD.
30. Rent out your baby gear.
Do you have baby items taking up space in your garage but you aren't ready to part with them yet? After all, you might want another kid . . . maybe one day. Instead of selling that high chair or baby jumper, why not rent them? Oh, we're serious. On websites like BabyQuip, their Quality Providers earn around $600 a month renting out things like cribs and strollers. Seriously.9
31. Sell unwanted stuff.
Sift through your hall closet, attic and garage for everything you don't use anymore. What can you live without? Of course, you can always sell items on tried-and-true sites like eBay and Craigslist. But don't forget about apps like OfferUp, VarageSale, Poshmark, thredUP and Facebook Marketplace that make it even easier to make extra money by selling secondhand stuff.
32. Sell your kids' clothes.
Let's be honest—those little people grow out of their clothes faster than you can keep up. When it's time to get rid of the clothes they've outgrown, you have a few options: put them out in your standard yard sale, sell them to a consignment store, or post them on social media. Apps like Kidizen are specially designed for selling your kids' gently used threads. And of course, you can use other sites we've talked about like Poshmark, thredUP, Craigslist and eBay to sell children's clothing too.
33. Sell those unused gift cards.
Aunt Betsy gave you a PacSun gift card for Christmas, and you've never even set foot in the place. Instead of letting the gift card collect dust, sell it! Websites like Raise let you sell your unwanted gift cards and make a little kickback off of them. After all, every gift card deserves a loving home, doesn't it?
34. Rent your belongings.
Okay, we already talked about renting out your home, car and even your old baby items. What else is there? Oh, only everything else. The popular renting company Fat Llama (what a name—we know) lets you rent out nearly any of your belongings!
Some of the most in-demand items are camera equipment, projectors, lighting and audio equipment. So if you're a photographer, videographer or just a tech-gadget lover, you might make a good amount. But remember, you can rent out nearly anything—even your lawn mower . . . or tractor . . . or scooter. Who knew?
Don't Forget This Way to Earn Extra Money!
Now that you know how to make extra money, try a few of these (or all 34) and see if you can generate a nice little chunk of change.
And when you start bringing home that extra money, make sure you're using it to its max potential—by budgeting! Our free budgeting tool EveryDollar will help you do just that. You're going to be working hard to make all that extra money. And budgeting will make sure it works hard for you too.